Power Calendar is a comprehensive solution allowing education establishments, private or public schools, school districts, colleges and universities to match students with teachers, tutors, health, social and educational resources based on needs, skillset, availability, location and other parameters. Configure Power Calendar to set objectives and constraints, create different simulations and generate optimized schedules.
Power Calendar Optimization engine creates the best coverage for your students to achieve their maximum educational and social potential considering type of learning difficulties, disability, health condition or other challenges. Coverage defined by educational objectives, grade level, allowable number of students, minimum and maximum of hours required, time frequency and student preferences for tutor and location. Tutors constraint considers their skillset, experience, capacity, operational availability, compliance, geographical coverage, human resources and contractual conditions (working hours, training, breaks…). Achieve the most effective resource allocation for your students by pairing needs and skills, maximizing coverage and minimizing overtime, travel time and overall cost.
Power Calendar Execution module generates students and resource schedule. Communicate schedules individually or consolidated by department, school, region or district levels. Power Calendar dashboards shows students, resources times, gaps, deficits and over allocation by needs, skills, school or district.
Monitor Execution via Power Calendar web portal or your school intranet or sychronise with a number of online content managers such as WordPress©, SharePoint© or online calendars such as MS Office©, Google© Calendar.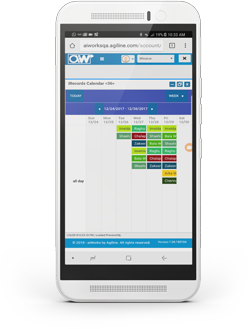 Used by:
Technical & Schools
Universities
Training Facilities
Districts and government
Families
Independent tutors
Power Calendar is a perfect tool for Tutors and Student matching. It is configured to communicate with a number of Student Information Systems (SIS) via API and automatically extract student needs and tutors availability. Power Calendar configuration module complements the student information collected from the SIS using specific needs, requirements, minimum presence, session objectives, date exclusions and preferred tutors. On the tutor's side, Power Calendar captures daily, weekly and monthly availability, capacity, skillsets, certification, locations and schools served; it also takes into consideration mandatory breaks, time restrictions, vacations, time-off, training and number of students per sessions